~This sponsored post was brought to you by Eden Fantasys.~
It's not even Thanksgiving yet, but people are starting to get their Christmas lists together. If you've been waiting for a special occasion to get a really nice toy, this may be the time. Want something, but don't know what? Here are a few of my picks that I have tried and loved.
For Her:
A wand vibrator, also called a massager.
Wand vibrators come in a variety of sizes, qualities, strengths, and colors. Some are rechargeable, some run on batteries, some plug in to the wall. The most well known is the
Hitachi Magic Wand
, which I currently own. Many high-end companies are now coming out with their own version of wand vibrators, like the
Lelo Smart Wand
. Even though wands are made for external use, you can buy attachments for
some
of them that allow them to be used internally, such as the
Gee Whiz
.
For Him: Male Maturbator.
Honestly, this is an area that Husband and I are just learning about. So many of our toys are female-centric, or female-centric that we learn how to use as a couple. I wanted to get something for him, something high-quality. The problem was that neither of us were sure if he'd like that kind of toy, since he'd never had one. We came upon the
Tenga Egg
, which is a disposable one. He loved it and now I'm on the hunt for a long-lasting toy that we can use together. Or apart. Or both.
Photo Credit Eden Fantasys
For the Couple: Vibrator and Massager.
I'm in love with the
We-Vibe Touch
for sex with Husband. In certain positions it fits between us, is rechargeable, and made of silicone. I also love the
Contour M
by JimmyJane for actual muscle massages. Simple to use, made of ceramic, and doesn't hurt our hands.
We-Vibe Touch
JimmyJane Contour M
For info on female orgasm: The book!
I Love Female Orgasm
is a book that I wouldn't be without now. The book is all encompassing, so not all of the information will be relevant to every one. However, the book is full of fantastic information.
Photo Credit Eden Fantasys
* * *
All that being said, what am I getting? I've got my eye on a couple of things. I'm thinking about getting Husband the
Tenga Flip Hole
. And as a gift for us, my next order will probably be the
Jopen Ego e3
, and maybe
these feathery things
, just because I find them amusing.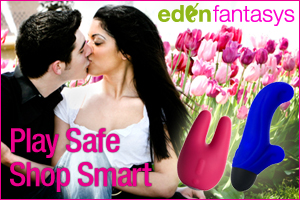 If you want to start browsing, you may want to check out the Eden Fantasys
promotion page
for current sales. Don't forget, if you buy from
Eden
, you get points which can applied to the next order. Or, save up a lot of points to use on something big. Points can even be used to pay for shipping. It's up to you. It's one of the (many) reasons I usually do my shopping there. For more info on how the point system works, check out the
points page
.
~This sponsored but honest post was brought to you by Eden Fantasys.~