Contour M photo credit Eden Fantasys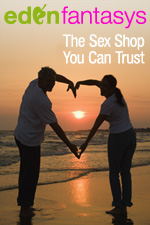 ~This sponsored post was brought to you by Eden Fantasys.~
Hey, you! Stop what you are doing right now and look at this. Look at what I found. Look at what I ordered today! It's the
Contour M
by
Jimmyjane
!
So, what is this magical object and why am I so over-the-moon excited? Well, in short it is a ceramic massage tool/stone. You can warm it up. You can cool it down. It's smooth and white and full of awesome. According to Jimmyjane, you use the top dome for long strokes, and the four points on the bottom for a more multi-pointed massage.
But that still doesn't explain why I'm so worked up over it. See, Husband and I love giving each other massages. It's a soothing, bonding, relaxing time. The problem is that even though I can massage him for quite some time, his fingers just can't take it. They cramp up. Therefore, the massages I receive, through no fault of his, are rushed and sometimes painful. I'm really hoping the Contour M will help with that.
And where did I find this wonderful item that I'm hoping lives up to its awesome reputation? It happens to be $25 on
Eden Fantasys
. It ships free if you spend $35 on their site. Nice, yes? I think so.
Stay tuned for whether or not Contour M deserves my love or not!
~This sponsored yet honest post was brought to you by Eden Fantasys.~